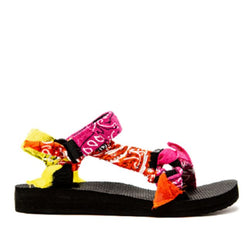 Trekky Bandana Sandal
Americana. Handcrafted sandals from Arizona Love, a French accessories brand that combines a nomadic spirit with chic Parisian style. The sandals feature comfortable foam soles and black paisley straps made of bandanas.
Final sale.
This style runs a half size small; We recommend ordering one size up.
Model wears a size 8.5 shoe and is wearing a size 9
Product description and images provided by Arizona Love